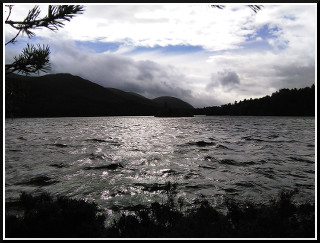 On Saturday 24 September there was another brilliant day outing for the group, Carrie, Liz, and Rosemary all teamed up for a walk around Loch an Eilein.
Less than an hour's drive from inverness we were soon lacing up our boots for the 4.5 mile walk around the loch.  The peaks of the Cairngorms formed a stunning backdrop, the beautiful loch reflecting the magnificent pines of Rothiemurchus Forest in which it lies – it is easy to see why it is one of the most popular short walks in the area.  On the day the lovely sunshine and well-made footpath around the loch made it easy to navigate with the woodland floor brilliant with blooming heather – there were many photo opportunities for Carrie & Rosemary (both keen photographers), along the way.  It is reported that osprey fish this loch with some nesting on the ruined castle on the island, however sadly on this occasion none were spotted.   After the walk there was time to stop off at the Mountain Café for a hearty lunch – perfect for hungry walkers!
The next walk is on 22 October when we will be visiting Glen Affric – so why not join us, you'll be glad you did!